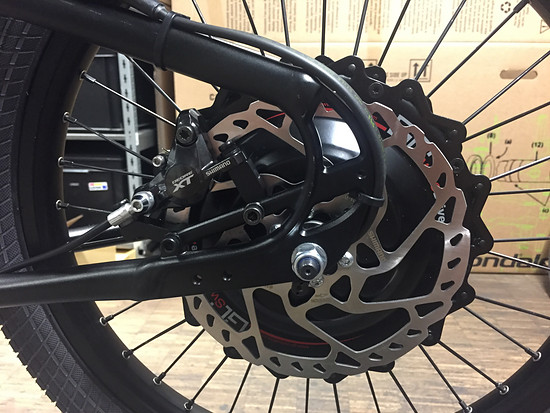 Mehr Fotos von diesem Tag:
.

Resto-Mod of the original Cannondale Hooligan Proof of Concept Frame from 2006.
The Build features a Headshok fork and the Go-Swiss Drive.

The original concept of the Hooligan was to showcase and utilize the, then proven, Cannondale Mountain Bike technology in a BadBoy-like Mini-Bike for the modern Urban and City use and feature a low maintenance enclosed Drivetrain.
The bike was based on the Cannondale Delta V frame and would use a custom suspension Headshok Fork! The Mountainbike heritage is very apparent as the rear triangle of the frame will comfortably take a 26 inch rear wheel, including off-road tires!
The frame was designed to be shallow with a low standover and use a shortened 20 inch Headshok fork sourced from the 1990-ies Cannondale Recumbent Line up with a BMX style Stem/handlebar set up, but eventually turned into a version closer to what we are used to of todays folding bikes. (And due to production issues was later reversed to a taller Headtube and standard style custom stem).
Unfortunately it proved to be to expensive to produce and never made it into production! And so we eventually ended up with the Hooligan that we all now know and Love!


The Bike and all used parts in this build are the exclusive property of Chris Dodman.

.
→ nächstes Foto ← vorheriges Foto L Gefällt mir S Einbetten I Aufnahmedaten O Weitere Aktionen